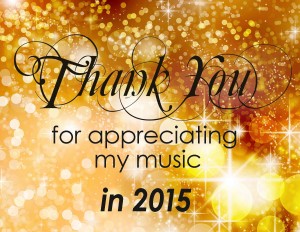 As this year comes to a close, my mind goes into reflection mode. This past year of 2015 was a really nice one for me as far as my music goes. Even with the usual obstacles of time, money and energy, I still managed to write, record and release another collection of songs called "Will."
This year I proved to myself that WILL is the answer. If I will it into being, I CAN make it happen, with persistence, patience, love, learning, and dedication to a high quality product. Naysayers and people who don't believe in me are powerless. I write my own destiny.
The gradual but steady growth of my music this past year makes me feel humbly grateful. Download sales, streams, and views on my YouTube and Soundcloud sites grew significantly this year, and I'm flattered that so many people from the U.S. and all around the world are searching for and finding my music. This is due mostly to airplay through various channels, including some supportive DJs, TV shows and ads that featured my songs, and business music programming. It seems like my reputation in the music industry is becoming known and solidified, and the fact that people in high places are aware of my existence and respect my work is a reward in itself. Overall, the growth of my music has been quiet and understated, but definite. And because of this, I'm not only proud, but very thankful.
Thanks for a very nice 2015, and here's to an even better 2016! Cheers, and happy new year!
See blog for posts about new songs from my 2015 release, Will, available below:
______________________________________________
Follow Angela on  Twitter & Facebook for updates!