FOR IMMEDIATE RELEASE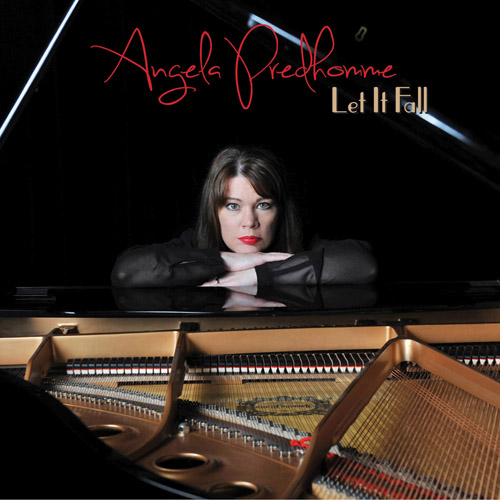 Michigan singer-songwriter gaining exposure, recognition
Hamburg Township, MI, February 23, 2017 –The music of Michigan artist-writer Angela Predhomme seems to be a magnet for television, film and advertising. This season on Lifetime TV's hit show "Dance Moms," her soulful ballad "Let It Fall" was recently featured in the young dance star Daviana Fletcher's performance called "Shades of Blue." This is the second song featured on "Dance Moms," which follows the ups and downs in the world of studio owner Abby Miller, dancers and parents.
Other featured placements for Predhomme's music include a popular performance by dancer JoJo Siwa on "Dance Moms" in Season 5, called "Faith Is All I Need," featuring the song "Epiphany." Predhomme also garnered major exposure in Europe for the catchy song in an ING Bank advertising campaign. Her music has also been heard in popular television shows "Switched at Birth" on Freeform (formerly ABC Family), "The Voice" on NBC, and "Pawn Stars" on The History Channel, and many more.
Predhomme's songs are reaching around the globe with over 6 million plays through various media. She explains, "I love to create music, and the ultimate fulfillment for me is for my songs to touch people's hearts and speak to them. If this music can uplift someone or make them feel, think or reflect, then I've done my job, and that feels great!"
Laid back, soulful music with pop sensibility, oftentimes with deep or emotional lyrics best defines Predhomme's musical style. Her songs are available on iTunes, Apple, Spotify, and most streaming services.

Angela Predhomme is available for in-studio interviews and performances upon request. She is happy to tell her story in hopes of helping other music creators break into film and TV licensing.
Videos:
Dance Moms "Shades of Blue" (S7, E4) https://www.youtube.com/watch?v=fwxXituxTFU
Demo reel – Angela Predhomme https://www.youtube.com/watch?v=jNGF404uotQ
Dance Moms "Faith Is All I Need" (S5, E24) https://www.youtube.com/watch?v=HJke4vN1sV0

Listen to Predhomme's Music:
iTunes/Apple Music: https://itunes.apple.com/us/artist/angela-predhomme/id302070899?app=music&ign-mpt=uo%3D4
Spotify: https://open.spotify.com/artist/5CpNjhsaN1MNhHNvbyBPRL
Website and social media:
Artist website: angelapredhomme.com
Twitter: http://www.Twitter.com/angelapredhomme
Facebook: http://www.facebook.com/angelapredhomme
YouTube: http://www.youtube.com/angelapredhomme

For interviews and in-studio performances, contact Angela directly at info@angelapredhomme.com
Contact: Chris Farina
Phone: (734) 224-3903
Email: cfarina66@gmail.com
Website: www.AngelaPredhomme.com
Media: www.AngelaPredhomme.com/press.html
###