FOR IMMEDIATE RELEASE

New album release from Angela Predhomme: 'Let It Fall'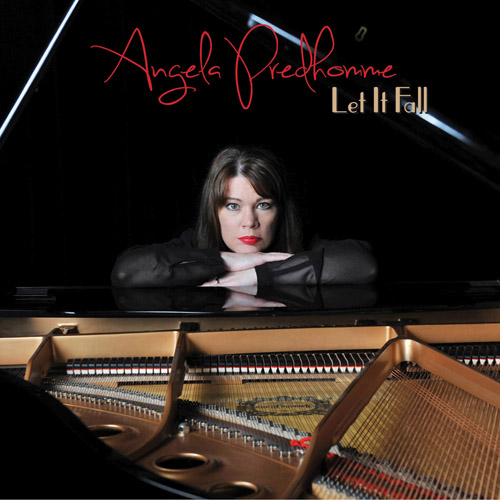 Detroit, MI, September 12, 2013 –Following up 2011's album, "Don't Wonder," which spawned several TV and film placements, is the latest release from singer / songwriter Angela Predhomme, entitled "Let It Fall." It was recorded in the Detroit area at the Tempermill studio, and produced by guitarist Brett Lucas.
Praise for the album is rolling in. Rob Reinhart of WDET says, "Angela has found a way to weave her exquisite voice into the classic song structures from pop to retro-soul to blues to the Carol King inspired piano/guitar balladry of the early 70s. Oh, and it's pretty good fun, too!" John Schoenberger, AAA editor for All Access affirms, ""In a crowded playing field it takes a unique musical voice to break through. Angela Predhomme has that unique voice."
Predhomme is a soulful singer / songwriter who sings from the heart with a smooth, expressive voice, and has a knack for writing melodies that stay with you long after you've heard her songs. Passionate, dramatic songs and catchy light pop showcase skilled songwriting and compelling, emotional vocals. Credits to date include song placements in NBC's hit show "The Voice," MTV's "Teen Mom," TLC's "What Not to Wear," Ron Howard's "America in Primetime" for PBS, and closing credit placement in the film A Wedding Most Strange (2012). Songwriting awards include finalist and honorable mention placement in Song of the Year song contest.
Expect to hear these focus tracks from the album on public and college radio this fall: the catchy pop song "It's a Breeze," the passionate "Maybe I'll Sleep It Off," the edgy and driving song "Dead Wrong," and the dramatic title track "Let It Fall."
Photos, bio, music, and a performance schedule are available at:
www.angelapredhomme.com, and also at www.reverbnation.com/angelapredhomme
Listen to the song "It's a Breeze" here:
http://www.reverbnation.com/angelapredhomme/song/18004139-its-a-breeze -- or below:

Free public download link for "It's a Breeze":
http://www.angelapredhomme.com/images/mp3s/Its_a_Breeze.mp3.zip
Stream the entire album, "Let It Fall," here:
https://soundcloud.com/angelapredhomme/sets/let-it-fall
"Let It Fall" on iTunes: https://itunes.apple.com/us/album/let-it-fall/id692756017
Contact: Chris Farina
Phone: (313) 418-0353
Email: cfarina66@gmail.com
Website: www.AngelaPredhomme.com
Media: www.AngelaPredhomme.com/press.html
Radio contact: Crystal Ann Lea
Phone: 424-702-5919
Email: crystalann@m-mmusic.com
M:M Music
6230 Wilshire Blvd. #14
Los Angeles CA 90048
###

Pictures / graphics